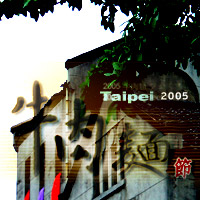 Beef Noodle is a representative gourmet unique to Taiwan . For decades, it not has been deep rooted in Taiwanese food and beverage culture, but also has become a day to day citizen gourmet common to general public. Beef noodle is internationally reputed for its unique taste and is adored by tourists from around the world, and its notability matches with Japanese Ramen.

Number and density of beef noodle restaurants of all styles in Taipei is number one in Taiwan because of history and culture factors. Many public praised famous beef noodle restaurants with decades of history already linked to the development and pulse of Taipei . Such gourmet is now a common memory and experience shared by many seasoned local Taipei citizens and even Taiwanese people.

In order to systematically distinctively reveal the specialties of beef noodle business in Taipei City, trace and preserve beef noodle culture unique to Taipei, and promote the taste of beef noodle to gourmands of all ages and nationalities, Taipei City Government has especially sponsored the first "Taipei Beef Noodle Festival "ever held in history from August 13 to September 24. The Undertaker, Taipei Business Administration Office, hopes to promote and shape Taipei City as the "World Capital of Beef Noodle" by successful integration of culture and commerce to further increase tourism traffic in Taipei and to flourish consumption and business opportunity for Taipei food and beverage business and business districts.

The first "Taipei Beef Noodle Festival" shall guide gourmands deep into the culture of beef noodle in Taipei, re-focus on beef noodle theme, and satisfy various demands from gourmands with multiple forms such as Gourmet Summit, Web Interactive Activities, compiling Complete Guide for Beef Noodle, Creative Beef Noodle King Championship, and Beef Noodle Carnival. All beef noodle gourmands and lovers are welcome to unite in Taipei in August and September and enjoy a bowl of delicious-smell, juicy and tender beef noodle once again

Beef Noodle Culture Gourmet Summit:

On August 13, 10 AM at the 17th Floor of Sheraton Taipei Hotel, we invited 20 experts in the areas of history, humanity, tourism, marketing, culinary art, and gourmet critic for in-depth discussion and sharing on the topic of Taipei beef noodle culture. The essence of the discussion shall be included on the "Complete Guide for Beef Noodle" which scheduled for publish on September 20 as reference for beef noodle lovers.

Official Website for Beef Noodle Festival:www.tbnf.com.tw
To Know Beef Noodle:


Pass on the cultural origin and the way of taste of beef noodle。


Beef Noodle DIY:


Experts in culinary art illustrate how to cook authentic beef noodle of different style.


Beef Noodle in Taipei:


People share memory and experience of tasting beef noodle in Taipei on the Internet.


What's New:


The most recent activities of Beef Noodle Festival and on-site report.


Beef Noodle Line-Up:


Beef noodle restaurants are invited to register restaurant information on official website, and registered users may comment and vote for the restaurants on official website. Such web poll shall determine the web-version of the most popular beef noodle restaurants in Taipei.

Web Poll of the Most Popular Beef Noodle:
The"Beef Noodle Line-up" section of the official website of Beef Noodle Festival allows registered visitor to comment and vote all listed beef noodle restaurants and determine the web version of the most popular beef noodle restaurants in Taipei. The top 30 restaurants will be invited to join the Beef Noodle Carnival on September 24.
Creative Beef Noodle King Championship:
"Creativity" shall be the primary criteria for enrollment and selection. Regardless of professional or non-professional, any person who is good at beef noodle cooking may enroll. Send recipe, photo, and related information via email or postal mail, and applicant material will be reviewed by food and beverage experts. 30 applicants will be selected for preliminary contest.
Beef Noodle Carnival:
The carnival shall be held on September 24 at the Red Tower Plaza (Hong Lou Guang Chang). Beef noodle stalls will be set up on site by the top 30 restaurants voted through official website, and beef noodles will be sold to visitors for tasting and comparing. Visitors need to purchase coupon on site first, then use the coupon to order beef noodle. Final round of Beef Noodle King Championship and illustrative performing of beef noodle subjects will also be held on site.